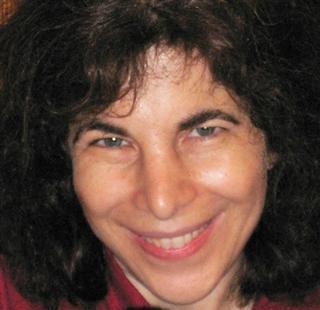 Welcome to the home page of author, playwright and director Lauren Goldman Marshall.


New and upcoming:

My adaptation of the Chinese tale of the Monkey King (from the epic Journey to the West) is being performed by Belleuve Youth Theatre, Nov 8-17, 2019. A spunky monkey aspires to be on equal footing with the gods, and won't let authority stand in his way. I've loved this story ever since I first read it in my teens, as I too am a bit of a rule-breaker. Designed for kids and kids-at-heart, I'd be thrilled to have you come see it! For tickets, click here.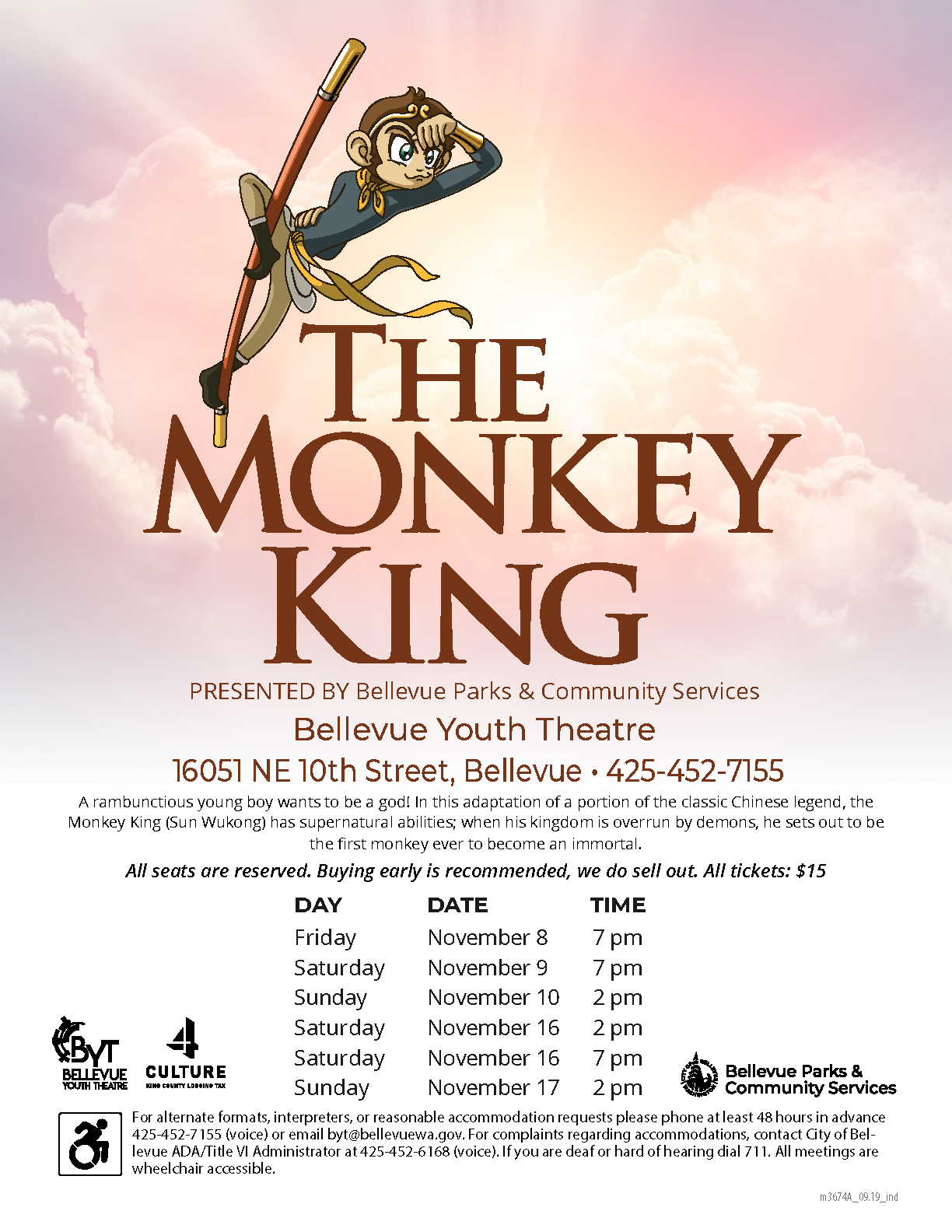 Click here for detailed information about 2019–20 Theater of Possibility classes, including after-school classes, 4:15–5:45 PM on Tuesdays (ages 15–adult) and Thursdays (ages 8–14) at University Heights Center in Seattle, and Saturday morning classes 9:10–10:20 AM (ages 8–14) and 10:30–Noon (ages 15+) at Bellevue Youth Theatre - Crossroads.
Click here for a downloadable flyer.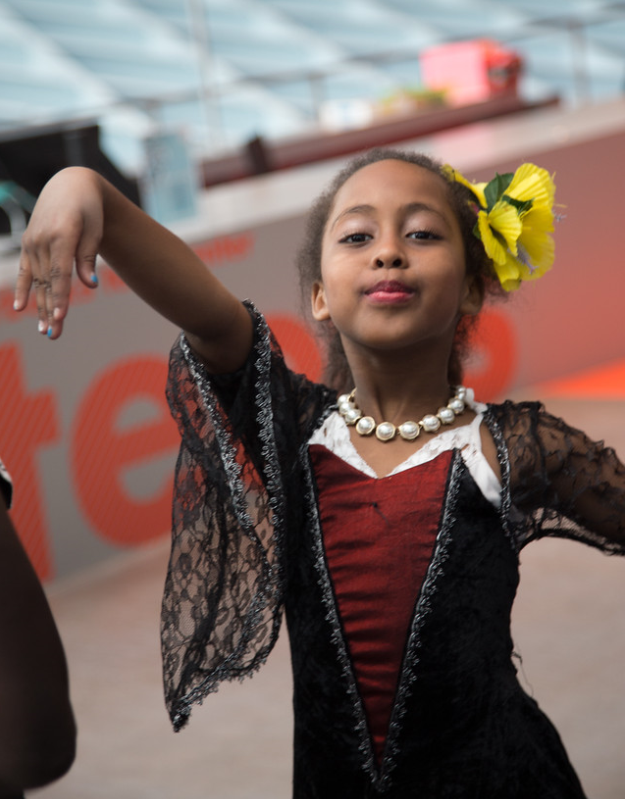 Theater of Possibility ("TOP"), founded in 2010, works with underserved populations to foster creativity, teach resilience, and build community through acting, improvisation and the creation of original theater.
TOP programs in Seattle and Bellevue serve kids, teens, and adults with autism spectrum and other ability differences, as well as peer allies. Partial scholarships and pay-what-you-can available. TOP is a DSHS respite care provider.
Between 2014–18, TOP has also offered programs for economically disadvantaged youth living in Sand Point Housing. TOP has received four annual Youth Arts Awards from the Seattle Office of Arts Culture.
---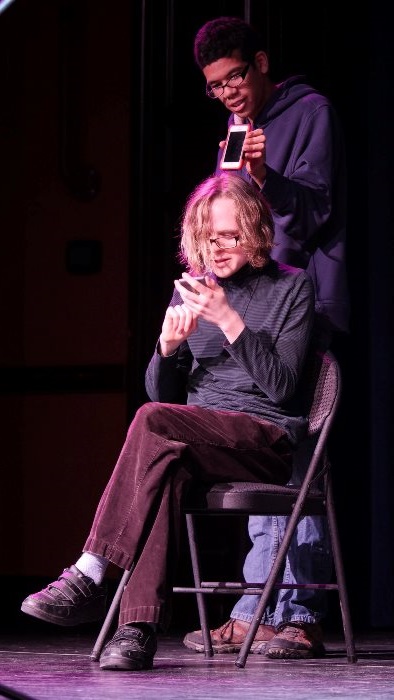 Recent Workshops and Productions:
Theater of Possibility presents at the World Affairs Council
Four advanced students and teaching assistants from the Seattle and Bellevue teen/adult classes joined Lauren on August 1, 2019, in presenting a workshop on Theater of Possibilty for a delegation of theater artists from Egypt, participating in the State Department's International Visitor Leadership Program, focusing on the role of independent theater in promoting social change. We had a blast doing theater games and demonstrating techniques from Augusto Boal's Theater of the Oppressed with the highly talented Egyptian theater artists.
Theater of Possibility at Intersections Festival
The TOP advanced youth troupe performed two short pieces, Autism Therapy for Neurotypicals, by Jackie Moffitt, and Kaleidoscope, by Lauren Marshall and Pam Shane Johnson, at the Intersections Festival, Youngstown Cultural Arts Center, 4408 Delridge Way, SW Seattle, 98106, Sunday March 25, 2018.
Intersections is a comedy festival focusing on equity, inclusion and representation.
Abraham's Land
Lauren has been hard at work with composer Roger Ames on a substantial revision of Abraham's Land, a full-length musical set against the Israeli-Palestinian conflict, with additional book material by Hanna Eady and additional music by David Nafissan and Joan Szymko. We're excited to report that 4Culture recently awarded a $8,500 project grant to support a future production of the work. This summer, we held a developmental worksop to make demo recordings of the songs, and presented a showcase of song selections on July 23, 2019 at the Taproot Theater - Isaac Studio, in Seattle. Our awesome cast included Christin Byrdsong (Yitzhak), Andi Alhadeff (Amira), Fune Tautula (Ismail), Terence Kelly (Abu Salim/Moshe), Meg Ermine Savlov (Hanan/Hadas), Nick Bernard (Fat'hi), Rocky Vega (Yael/Salma) with Mark Abel, Jeremy Berdin, Slade Burgess, Sammie Gorham, Karen Hartman and D'vorah Kost as Ensemble, plus young actors Ruby Harman, Cole Hunter, and Tatum Poirrier, with music direction by Chris DiStefano. Here they are in the recording studio at Jack Straw Cultural Center: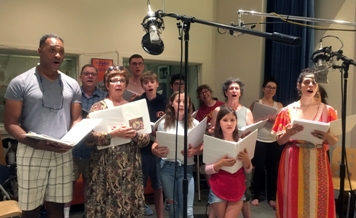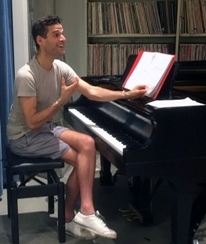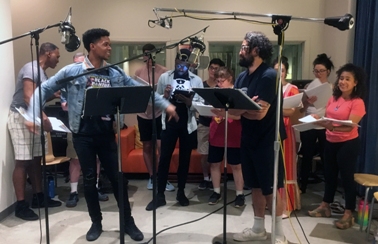 You can hear some samples of the music here:
In August 2018, St. Mark's Cathedral hosted a developmental workshop & reading of Abraham's Land. A song from the show, performed by Terence Kelly, was also featured in Village Theatre's Northwest Songwriter's Showcase.
Abraham's Land explores the human cost of the ongoing Israeli occupation of Palestine. Theater of Possibility is accepting tax-deductible donations via Fractured Atlas to support a full production of Abraham's Land between now and June 2021.
Lauren's op-ed piece on Israel and Palestine was published in the Seattle Times on May 19, 2018.
Gilbert & Sullivan 2018 summer youth camp performance of Pirates of Penzance
In summer, 2018, Lauren directed a musical theater camp of Pirates of Penzance, for youth entering grades 5–10, at the Seattle Gilbert & Sullivan Society, 9250 14th Avenue NW, Seattle, WA 98117. Music direction was by Morgan Duterte, and choreography was by Meagan Moffat.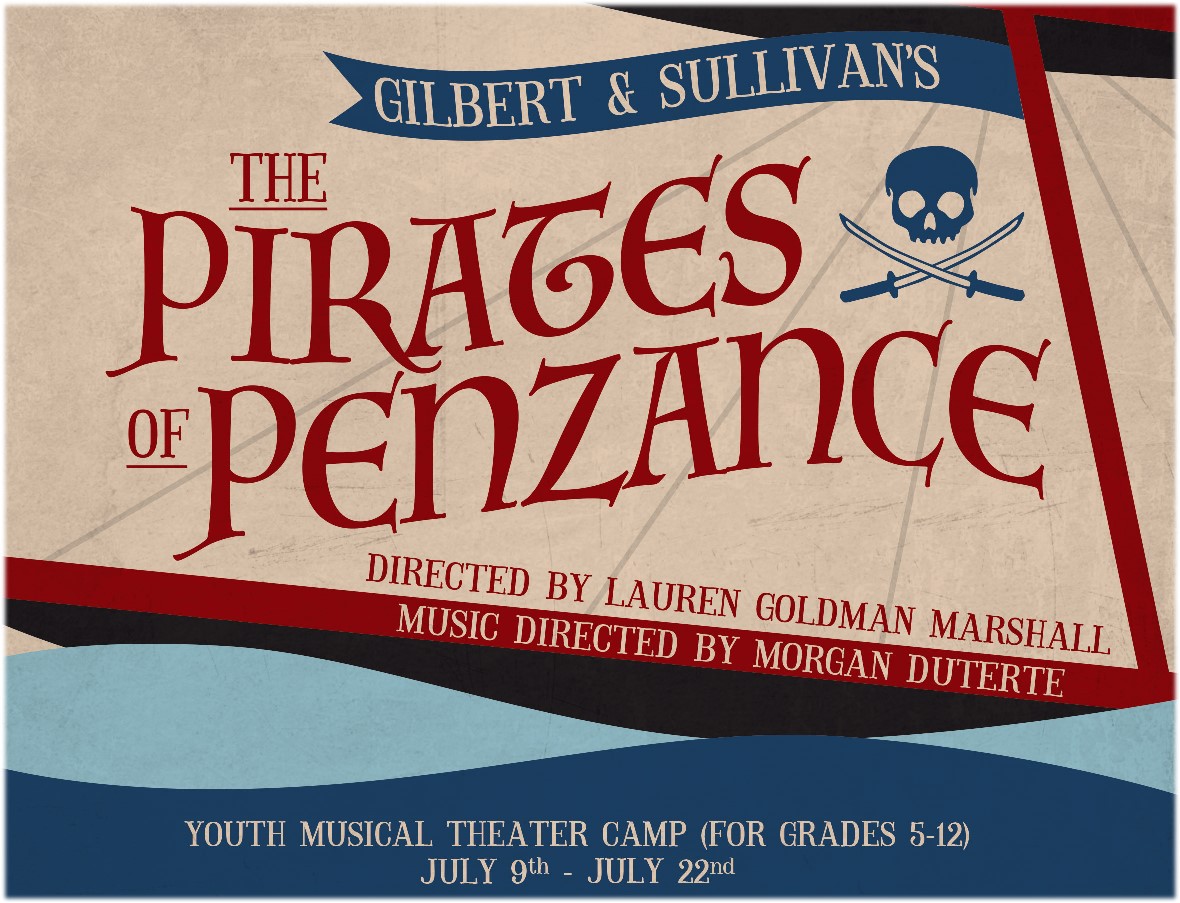 Contact Lauren Marshall for information on future summer programs.
Fixing Einstein
Lauren's new musical-in-progress, Fixing Einstein, with book and lyrics by Lauren and music by Ian Williams, was presented in a workshop reading by the 5th Avenue Theater on July 25, 2015 as part of its Next Fest-2015. A one-act version of the piece was previously presented January 31, 2014. Lauren was one of six artists selected into the inaugural 2013–15 Fifth Avenue Theatre's Seattle Writer's Group for the development of new musicals.
Gilbert & Sullivan 2017 summer youth camp performance of HMS Pinafore
In summer, 2017, Lauren directed a musical theater camp of HMS Pinafore, for youth entering grades 5-10, at the Seattle Gilbert & Sullivan Society, 9250 14th Avenue NW, Seattle, WA 98117.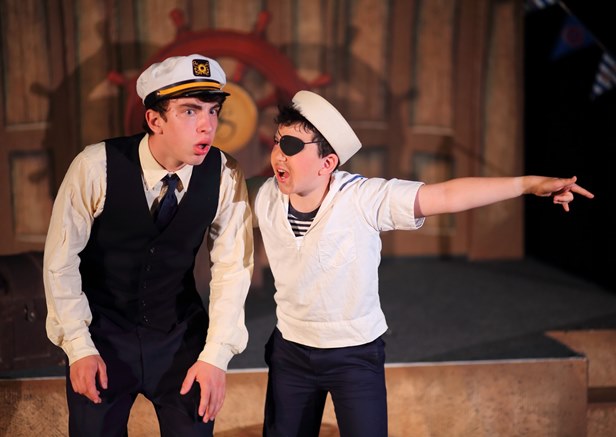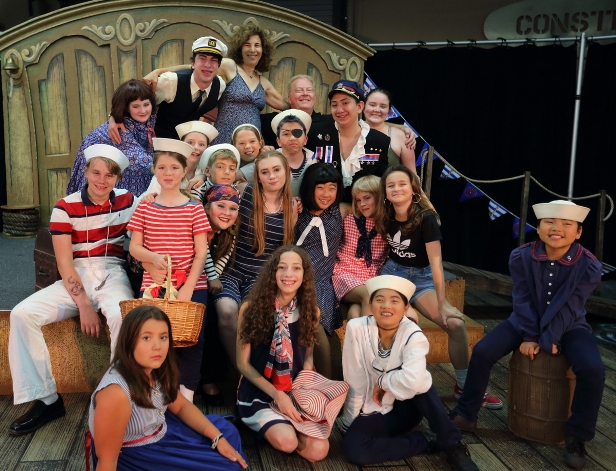 Other News:
The Theater of Possibility teen/adult troupe was invited to do a demonstration workshop at the North American Drama Therapy Conference in Seattle, October 2016. Lauren also presented on TOP at the NADTA conference in Boston in October 2017.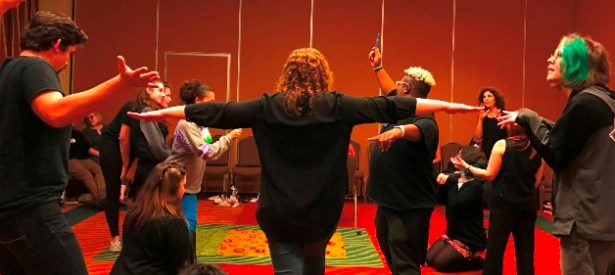 Lauren has been selected for the Creative Advantage Community Arts Partner Roster for teaching artists working in the public schools. She was also a selected participant in the 2016–17 Washington State Teacher Artist Training Lab, sponsored by Seattle Children's Theatre and the Washington State Arts Commission.
Theater of Possibility - Sand Point Youth troupe performed The Rude Princess, a mini-play loosely inspired by The Taming of the Shrew (but with an ending that doesn't make women cringe), at the downtown Seattle Public Library as part of the Shakespeare First Folio celebration, on March 26, 2016 and April 3, 2016. Click here to learn more about this project.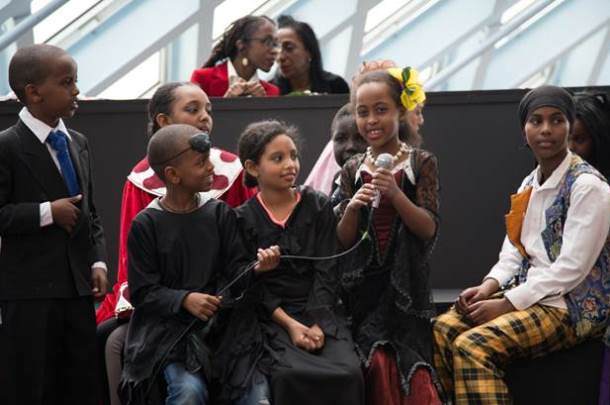 Lauren's new adaptation of the Chinese classic The Monkey King was performed by youth, grades 5–8, at Seattle Public Theater, August 7–9, 2015, directed by Kelly Kitchens.
Lauren assistant directed Oklahoma! for the Woodland Park Players 2016 innaugeral production.
Lauren's essay A Family Flower Garden, was published in Asian Jewish Life, October, 2014, and her commentary on The Mikado, was published in Crosscut, August 26. 2014.
Lauren presented two original short pieces at Seattle Public Theater's Knotty Words: An Evening of Inappropriate Poetry and Prose, on March 21, 2014. Emily Purrington joined with Lauren to read When Will I Need a Bra?," conceived by and co-written with Lauren's daughter Hannah Marschell.
Morning Sun, by Lauren Marshall (lyricist) and Michael Wartofksy (composer), from their one-act chamber opera Falling Leaves, was presented as part of July LezCab: New Works, July 21, 2013, at the Duplex Cabaret and Piano Bar in New York City.
Lauren's one-act play Finding Pluie, about the adventures of a lost water drop, had another production in May, 2015 by the kindergarten and first grades classes at Spruce Street School. This play has become a regular fixture at Spruce Street School, where it was previously produced in 2007, 2010 and 2013. Designed to entertain and teach kids about the water cycle, the play features original music by Chris Ballew, of Caspar Babypants, and the band Presidents of the United States of America.
Lauren's contemporary adaptation of Molière's The Misanthrope was produced by the Arizona State University School of Theatre and Film in Tempe, AZ in November–December 2011.
---
My Beautiful Bow: An Adoption Story is available through bookstores and many online vendors, including Amazon.com. Click here for a description of this picture book for children.