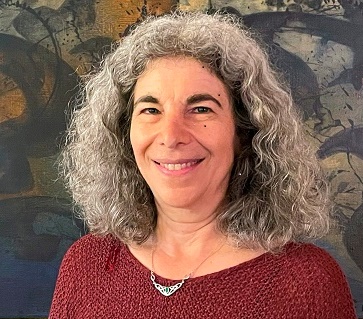 Welcome to the home page of playwright, director and teaching artist Lauren Goldman Marshall.

Check back soon for info on 2023-24 Theater of Possibility classes in Seattle and Bellevue:
Theater of Possibility's offers fun, affirming theater programs in Seattle and Bellevue for neurodiverse kids, teens and adults, including Saturday classes during the school year and a two week, half-day summer camp. This fall, we will also be teaching a weekend master class for those aspiring to teach with TOP or to integrate the techniques into your own pratice. Check back soon or contact Lauren Marshall for more information.


GIVING VOICE TO AUTISTIC NONSPEAKERS

I am excited to announce the video release of Theater of Possibility's acclaimed production of the musical play Love Letters: A True-Ly Short Epistolary Romance, by Sofia Ghassaei and various songwriters.

Two autistic nonspeakers fall in love over email only to struggle with sensory realities when they meet in person. Love Letters is a universal story of first love - found and lost – and of expectations not matching reality.

There are two release events:

Online Watch Party & Discussion Panel

Sunday, September 10, 2023, 3 PM Pacific Time / 6 PM Eastern Time

www.Tinyurl.com/LoveLettersWatchParty

Available for viewing on demand after Sept 10, 5 PM PT, on YouTube @TheaterofPossibility

Use these links: Video only or Video with spellers panel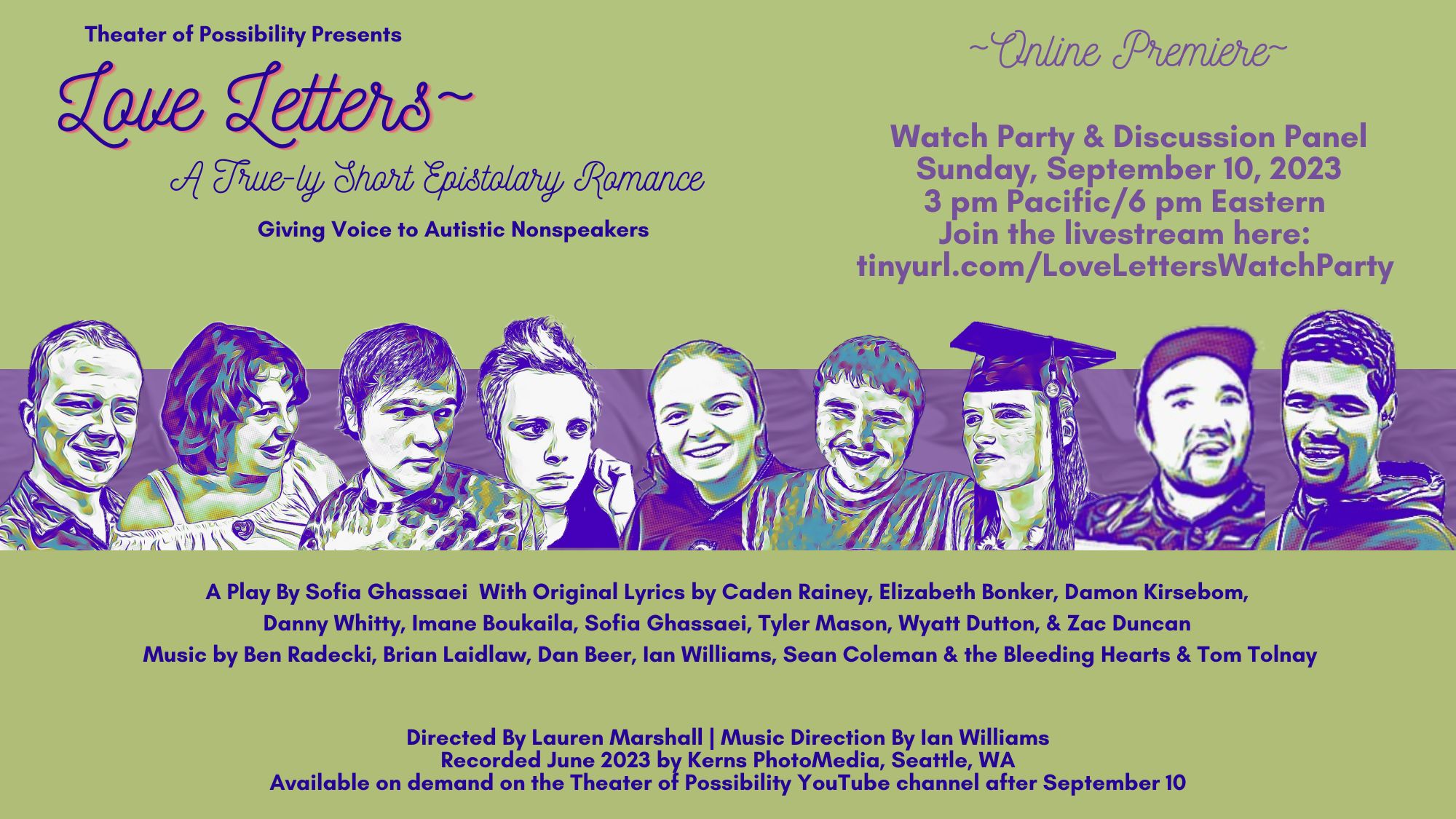 In-Person Screening
Friday October 6, 7:30 PM
Seattle Film Institute,
3210 – 16th Ave W, Seattle
Tickets are pay what you can- free to $25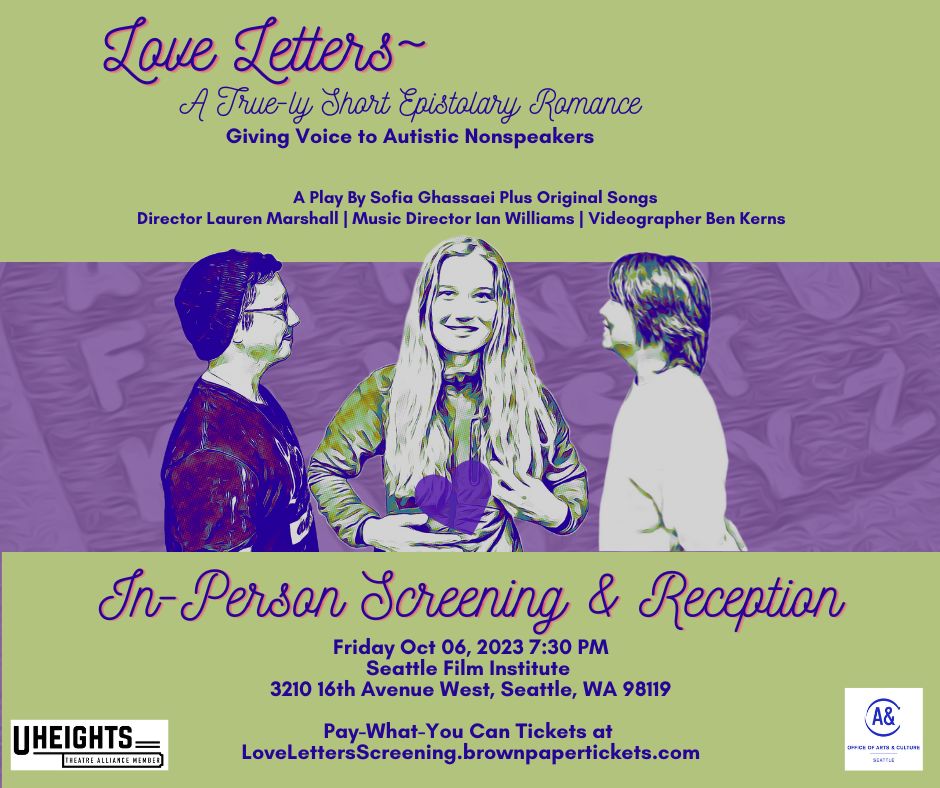 Playwright Sofia Ghassaei is a Seattle-based, young adult, award-winning poet and autistic minimal speaker. Due to apraxia, she has difficulty controlling her speech and body movements and communicates by pointing to letters on a letter board, one letter at a time. Augmented with songs from other speller across the US and Canada, Love Letters is a musical by and about autistic nonspeakers.
Love Letters is directed by Lauren Marshall, with music direction by Ian Williams, choreography by Anna Karpukhina, and videography by Ben Kerns, and performed by a professional cast, featuring Juliette Jones, Drew David Combs, Nathaniel Lee, Cammi Smith & Matthew Reyes.
Top: Mathew Reyes and Juliette Jones: Bottom: Cammi Smith and Drew David Combs. Photos by Ben Kerns
"More than any other show I've seen this year - this production reminded me of the magic theater possesses to show us the possibility we all have if given a chance."


-Kathy Hsieh, audience member and theater artist.
"You knocked my socks off that with that amazing show tonight. I'm moved beyond words for now. You mined deeper issues about "speech" than neurodivergence."...[Its] significance extends to so many ways we express ourselves. Or don't."


-Lenore Bensinger, playwright
"Such a creative, smart, funny, profound, beautiful play. The performances were remarkable. The music, simply perfect –an outstanding production!!!"


-Karen Z, audience member.
"I'm going to be thinking about it for a long, long time. I still have one of the songs running in my head hours later."


-Cass G. B, audience member
"I would see it again in a heartbeat."


-Stephen S, audience member and speller (autistic nonspeaker).
"I noticed how so many people saw me."


-Sam R, audience member and speller.
"This is the year my dreams come true! My play has a fabulous team of actors, musicians and a director who believe Nonspeakers have a place in the arts."
-Sofia Ghassaei, playwright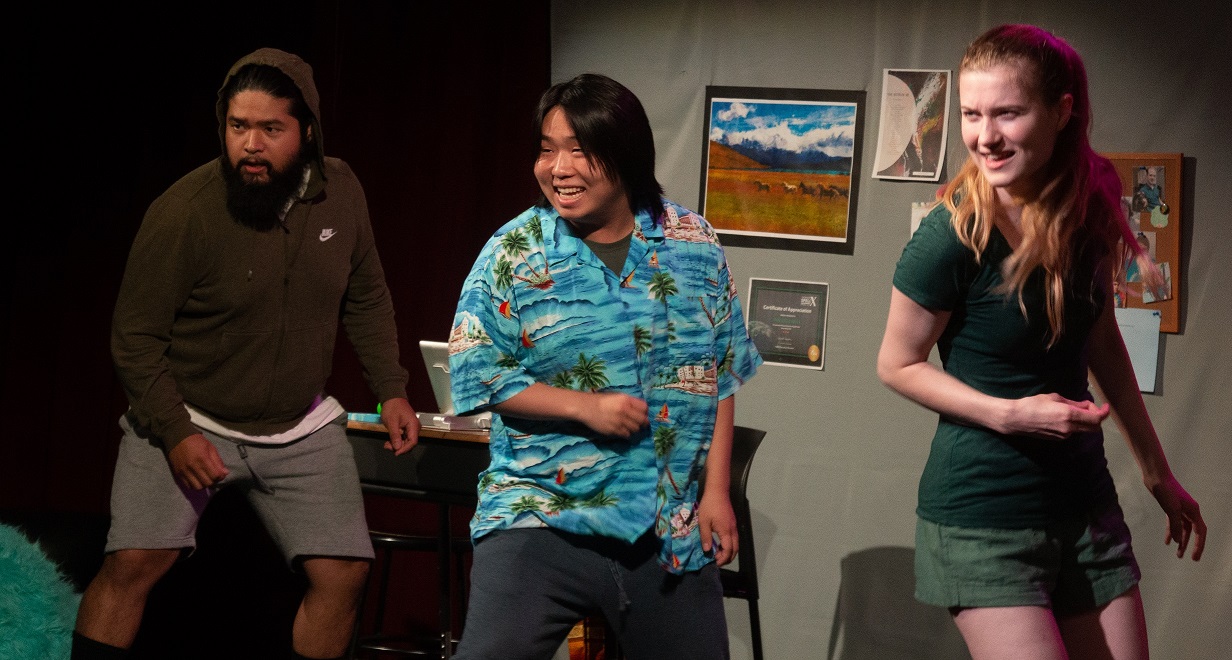 Matthew Reyes, Nathaniel Lee and Juliette Jones. Photos by Ben Kerns
Enjoy the digital program from the stage production.
For a peak behind the scenes on the creation of Love Letters, check out this entertaining and informative short podcast in which lyricist Wyatt Dutton (Whispering) interviews the playwright, Sofia Ghassaei, and this playwright's blog that appeared in the newsletter of the International Association for Spelling as Communication (I-ASC).
To support this project, including the making and dissemination of the video, please consider making a tax deductible donation to Theater of Possibility, or purchase a Love Letters T-shirt (limited time only).
Follow Love Letters news on Facebook
TOP featured in podcast on Education Evolution.
Dr. Maureen O'Shaughnessy interviews TOP founding director Lauren Marshall and veteran student turned TOP teacher Jackie Moffitt in a 34-minute podcast on Education Evolution, Using Acting To Support Neurodivergency with Theater of Possibility, aired June 21, 2022.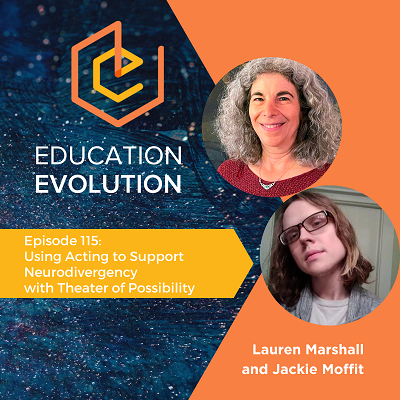 ---
Abraham's Land, an original musical set in Israel and Palestine, with book and lyrics by Lauren Goldman Marshall, and music and orchestrations by Roger Ames, plus additional music by David Nafissan and Paul Linnes, was produced by Theater of Possibility at the Kirkland Performance Center, July 15–18, 2021. Watch the official trailer:
Directed by David Grabarkewitz, with music direction by Paul Linnes and choreography by Kathryn Van Meter and Waseem Sbait, the gripping production featured an outstanding nationally-recruited cast, including Michael Strauss, Netanel Bellaishe, Maria Habeeb, Hassan Nazari-Robati, David Studwell, Bobbi Kotula, Danya El-Kurd, Cammi Smith, and Paul Shapiro, along with a multi-ethnic, multi-generational ensemble.
---
---
As the first professional production to open in Washington state following the pandemic, we offered both in-person and livestream viewing, reaching audiences in 37 states and 6 countries. Subsequently, we released a video of the production, edited by Ben Kerns.
"I watched it and wept and wept. It is unfortunately so very timely, not to mention beautiful."
- Gail von Hahmann, audience member, USA

"The writing, amazingly, did not demonize one side or the other. Rather, it showed the humanity while not shying from hard facts of what needs to be done."
- Bert Sacks, audience member, USA
Palestine Charity Team screened the film to six civic society institutions in Rafah, Gaza on January 18–25, 2022.
"We will be very happy if we see peace happen through this play, which aims in all its events about peace and coexistence."
- Remas, audience member, Gaza, Palestine
Here is Palestine Charity Team's two-minute video presentation on the screenings in Gaza.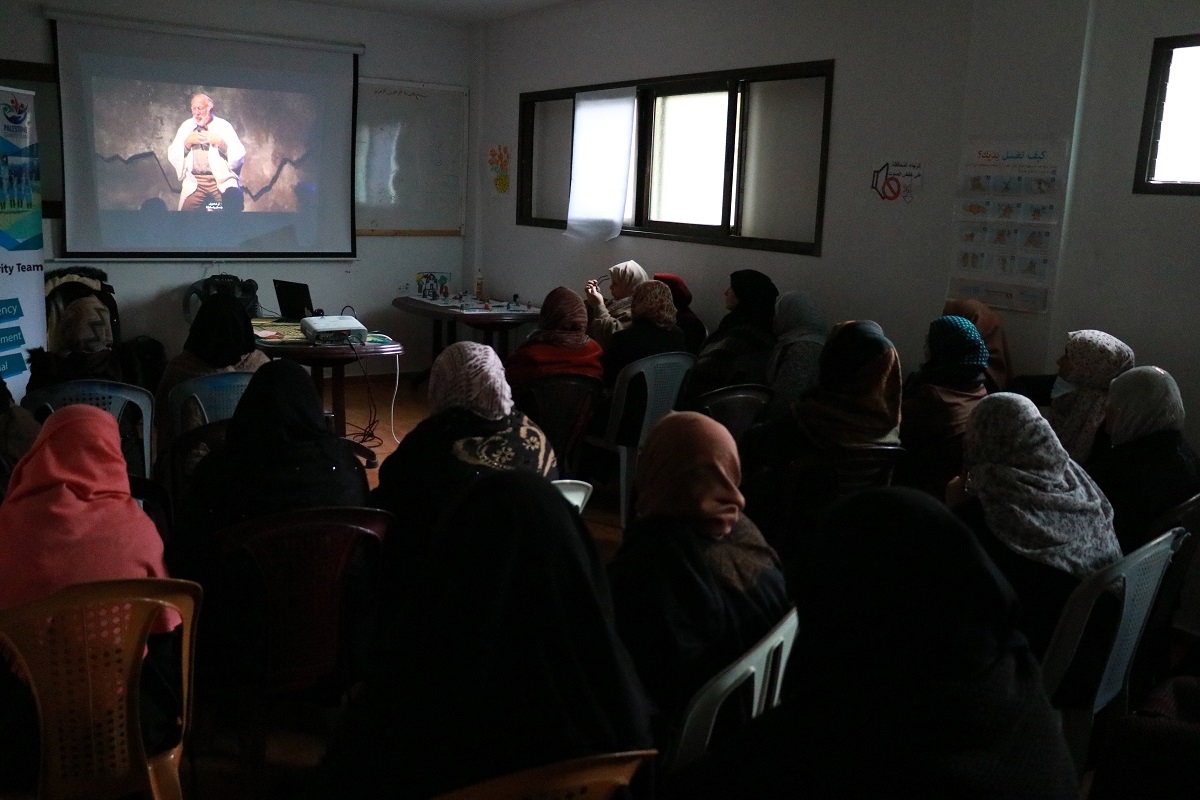 For more info on Abraham's Land, and to find out when the film will again be available for public viewing, please check out the Abraham's Land Website.
The production of Abraham's Land was supported by a grant from 4Culture and other donations.
Abraham's Land explores the human cost of the ongoing Israeli occupation of Palestine. Theater of Possibility is accepting tax-deductible donations via Fractured Atlas to support the release of the edited film version. Donate Now!
Lauren's op-ed piece on Israel and Palestine was published in the Seattle Times on May 19, 2018.
---
Recent Projects:
Lauren directed a virtual film version of Pamela Gerke's original musical Nightingale: Regarding the Life and Passion of Miss Florence Nightingale. To create this remarkable production during the pandemic, the actors were videotaped one at a time in front of a green screen and then magically edited together by Ben Kerns. See the official trailer here:
---
Lauren's adaptation of the Chinese tale of the Monkey King (from the epic Journey to the West) was produced by Bellevue Youth Theatre, Nov 8-17, 2019. A spunky monkey aspires to be on equal footing with the gods, and won't let authority stand in his way. Originally commissioned and produced by Seattle Public Theater for its summer youth program in 2015, it's designed for the young and young-at-heart.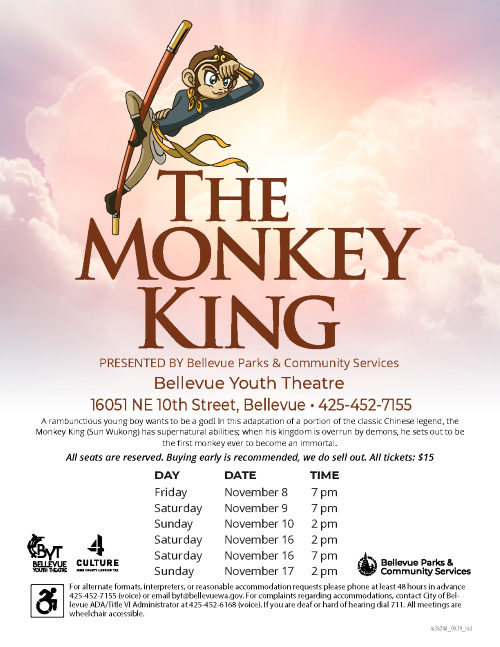 Bellevue Youth Theatre cast of The Monkey King: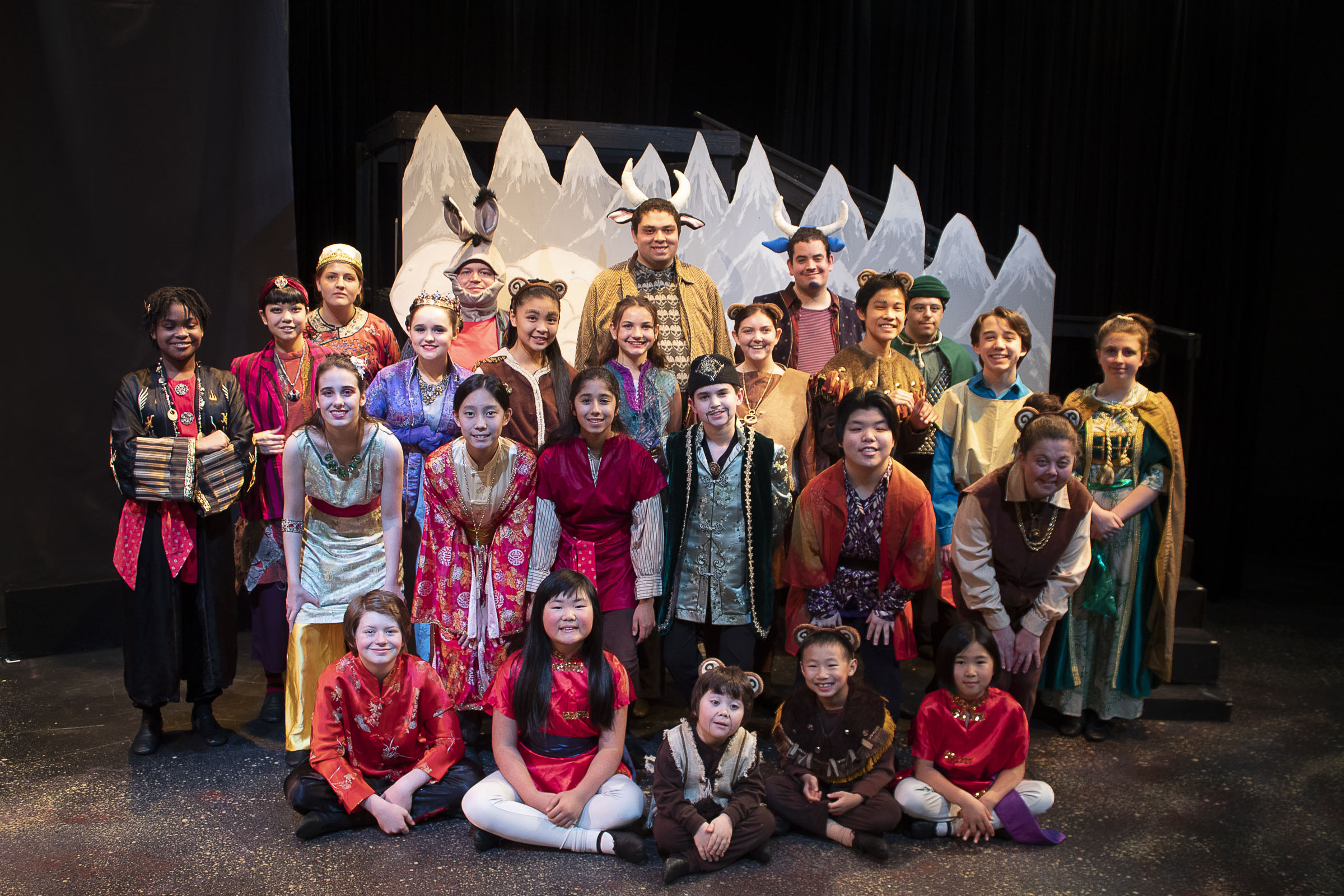 Theater of Possibility presents at the World Affairs Council
Four advanced students and teaching assistants from the Seattle and Bellevue teen/adult classes joined Lauren on August 1, 2019, in presenting a workshop on Theater of Possibility for a delegation of theater artists from Egypt, participating in the State Department's International Visitor Leadership Program, focusing on the role of independent theater in promoting social change. We had a blast doing theater games and demonstrating techniques from Augusto Boal's Theater of the Oppressed with the highly talented Egyptian theater artists.
Theater of Possibility at Intersections Festival
The TOP advanced youth troupe performed two short pieces, Autism Therapy for Neurotypicals, by Jackie Moffitt, and Kaleidoscope, by Lauren Marshall and Pam Shane Johnson, at the Intersections Festival, Youngstown Cultural Arts Center, 4408 Delridge Way, SW Seattle, 98106, Sunday March 25, 2018. Intersections is a comedy festival focusing on equity, inclusion and representation.
For more information on Theater of Possibility, click here.
---
My Beautiful Bow: An Adoption Story is available through bookstores and many online vendors, including Amazon.com. Click here for a description of this picture book for children.