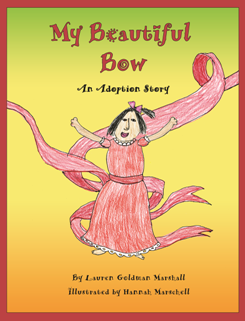 My Beautiful Bow:
An Adoption Story
By Lauren Goldman Marshall
Illustrated by Hannah Marschell
---
The red ribbons of a little girl's sash become imaginary ties to her birth mother and her adoptive mother, in this children's picture book, aimed at ages 4‒8.
Abby wonders if she came from her mother's belly, like her older sister. When a casual comment at the breakfast table prompts questions, Abby learns how the birth mother who carried her in her belly and the forever mommy who carries her on her hip both love her and have helped to make her who she is. "Your birth mother gave you a lovely singing voice," her Mommy tells her. "I give you songs to sing."
Although the little girl in the book is from China, her story is relevant to all adopted children, whether adopted domestically or internationally.
Illustrations by the sister of the protagonist offer a fresh child's perspective and provide a compelling back-story, underscoring the theme that love is what makes a family.
"I'll be so glad to have this as a teaching and supporting tool. I really want [my daughter] to be able to think about her birth parents and their role in her life. This book is perfect and, honestly, the only thing I've seen on this topic for young kids."

- Nancy Cohen, Ph.D., adoptive mother and child psychologist